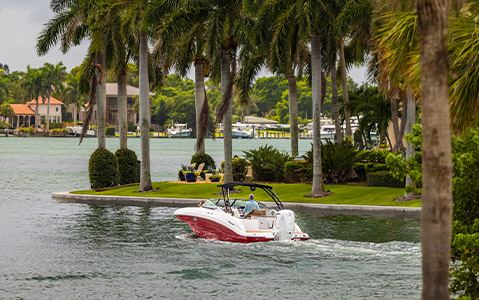 Whether you are just exploring color choices or ready to customize and price your dream boat, we have the right tool for you. Our 3D Boat Designer and Build & Price tools will guide you through the process and will help you connect with your dealer.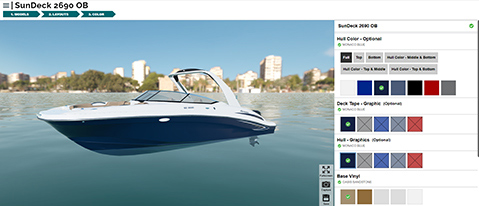 Preview Colors & Materials in 3D
Begin to visualize your perfect boat by selecting the exterior, furniture and flooring colors in our 3D Boat Designer. Available on select Hurricane series and floor plans.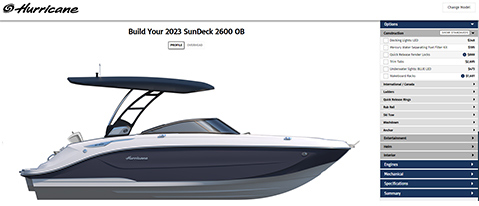 Explore Features & Pricing
Build out all the details for your chosen model and floor plan. Customize features and options and get up-to-date MSRP pricing. Send your build to a dealer to start the purchase process.
Not Sure Which Tool To Use?
Are you just playing around with design? Or ready to take a more serious dive into customizing your perfect Hurricane? Choose the tool that's right for you.
3D Boat Designer

Build & Price

<span class="font-family-primary" style="color:#fff;">3D Boat Designer</span>

View exterior & interior color

<span class="font-family-primary" style="color:#fff;">Build & Price</span>

View exterior & furniture images

<span class="font-family-primary" style="color:#fff;">3D Boat Designer</span>

Zoom in and out to see detail

<span class="font-family-primary" style="color:#fff;">Build & Price</span>

Price boat, motor & options

<span class="font-family-primary" style="color:#fff;">3D Boat Designer</span>

Rotate boat 360 degrees

<span class="font-family-primary" style="color:#fff;">Build & Price</span>

Customize your boat

<span class="font-family-primary" style="color:#fff;">3D Boat Designer</span>

Select models only

<span class="font-family-primary" style="color:#fff;">Build & Price</span>

Full model line-up & options

<span class="font-family-primary" style="color:#fff;">3D Boat Designer</span>

3D Boat Designer

<span class="font-family-primary" style="color:#fff;">Build & Price</span>

Build & Price