Buying a Boat: Guide on How to Buy a Boat
Looking to buy a boat soon, but not sure where to start? Read this boat buying guide for key steps, helpful tips, and important information.

Selecting a Boat Type

The first and most important step in buying a boat is deciding which type of boat is right for you. In order to make that choice, you need to know what to look for when making your purchase, and what each boat type is designed for. Once you know that, you can make the right choice about what type of vessel suits your lifestyle and how you want to spend your time on the water.
Deck Boat

Deck boats are designed to be boats that can "do it all." Popular among families for its versatility, it's good for cruising, fishing, skiing, or any number of activities. Hallmarks of this type of boat include an expanded bow section to maximize seating and deck area, hence the name. Deck boats are designed with both open space for entertaining and speed for watersports in mind, with spacious layouts, agile performance, and optimal passenger capacity. This design is perfect if you want to get the best of everything.
Sport Boat

As the name suggests, sport boats are crafted to be fast and easy to maneuver. They can make any day out on the water an adventure and make it a breeze to explore the landscape around you. Sport boats are perfect for those who want to feel the rush of a high-performance engine and put the boat's streamlined hull to work. Most sport boats are also crafted for entertaining, not just high-performance, making them perfect for covering a lot of ground in more ways than one.
Fishing Boat

For many boat-owners, fishing is the name of the game, and to get the most out of their boat, it has to be designed with a fishing focus at its core. Center consoles have a hull shape that is fast and stable, but with shallow water performance, centralized control, and expansive layouts intended to be versatile and user-friendly, with excellent mobility and good visibility. If you are the kind of boater in which fishing is the most important consideration, these fishing boats might just be what you're looking for.
Lounge/Cruise Boat

For those who want to make relaxation the priority, look no further than a cruiser. Good for entertaining and lounging, cruiser boats allow for a luxury boating experience without sacrificing any essentials. The best of all worlds, cruisers combine the thrill of deck boats and the ample seating of pontoon boats. With an open floor plan ideal for entertaining, these models are for those who want to enjoy the journey just as much as the destination.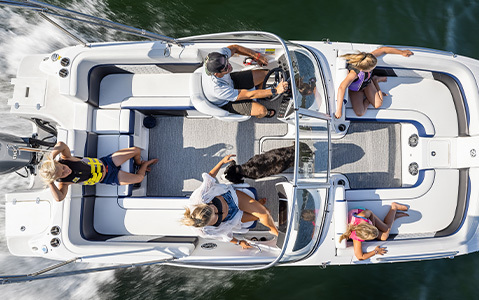 Choosing a New vs Used Boat

Once you've chosen the style of vessel that's right for you, the next step is to look at your options for owning one. There are many choices for purchasing a boat, but they boil down to a few key possibilities: buying a new boat, buying a used boat, or trading your boat in. So, which of these is the best choice for you?
Buying a New Boat

Buying a new boat can be very exciting, because who doesn't want a brand-new piece of equipment? You won't have to worry about any issues from prior owners since you will be the one charting your maiden voyage. Plus, you can get the latest technology, and you can customize it to your specifications. Learn more about pricing and options using Hurricane's boat payment calculator.
Buying a Used Boat

Buying a used boat is often a choice made by savvy boat owners who want to get more boat for less money. You won't have to worry about being the first person to put a scratch on the hull, and you can even feel more comfortable upgrading later if you find needs have changed. Before you buy a used boat, you should do your research and try to get a detailed history of where the vessel has been and what it's been through.
Trade In a Boat

Trading in your boat is a great option for those who are already boat owners. It eliminates the work of selling your old boat, and if it has a high trade-in value, you may be able to free up some funds for your new boat. Find out more about how to trade in your boat.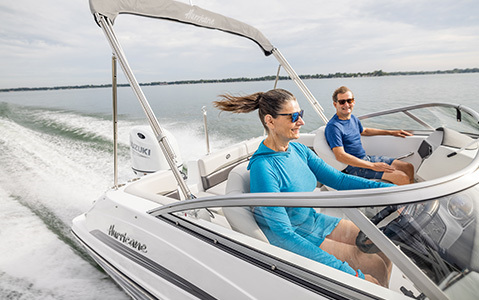 Where to Buy a Boat

With your boat type picked out and your decision made on whether to buy new or used, your next step is figuring out where to make your purchase. There are multiple options for a prospective buyer, and it's important to choose the one that's right for you. Before choosing, it's important to research prices and other details before you buy.
Boat Dealership

Dealerships are a good option for first-time buyers who want to get to know their dealers and develop a good relationship with them. Boat Dealerships can help guide you through the options and are typically where you will return for maintenance over the life of the boat.
Boat Show

A boat show is a great place to purchase your new boat. With a wide range of inventory and the ability to compare and contrast products, boat shows can show you all of your options, so you know you're making an informed decision. You will also have the opportunity to examine your chosen boat type up close, and make sure that it's the right one for you. In addition, many manufacturers run specials at boat shows, helping you get a better deal. Check out this list of boat shows to find one near you.
Buy Online


If you already know what you want and have no need to see or test your new boat in person before it's delivered to you, buying online might be the right option for you. With many internet sources available to research, you can purchase the boat and still feel confident that it's the one you want.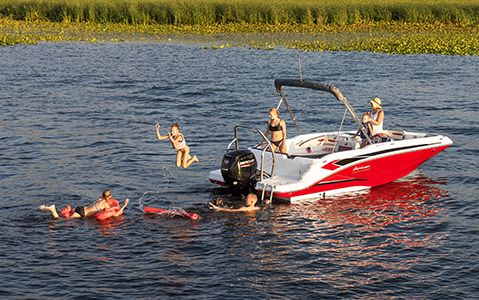 How to Buy a Boat

With your boat type, ownership decision, and how you are going to purchase decided, the next step is to get down to the business of buying a boat.
Request a Sea Trial/Boat Test Drive

Just like buying a car, a test drive can be immensely beneficial to a buyer if it's available. Sea trials can be tricky, but what's most important is to try to create a "real-life" environment on the boat and put it through its paces, if you will. Test its speed and handling, all the while keeping in mind how you intend to use it. If you run into any unexpected issues, make sure to ask questions and factor them into your final decision.
Inquire About a Marine Survey

Surveying your boat can be immensely beneficial, both in financial terms and to keep you and your passengers physically safe. Getting your boat inspected by a certified marine surveyor can give you great peace of mind, as they will be able to determine the condition of the vessel and seaworthiness, especially in relation to its intended use. Even if you think you're qualified to make your own decision on the boat's quality, it may help to have an unbiased, professional opinion. Additionally, some insurance and financing options require a survey, so you might as well cover all your bases.
Negotiate Boat Price


Make sure you're purchasing from a trusted source and ensure that you have all the necessary facts and information about your boat and its projected value, as well as typical pricing. When you sit down to negotiate, make sure to use all the knowledge you've accumulated and be prepared to make requests for things you want and need. Be absolutely sure you're getting the best deal possible, so you can enjoy your new investment to the fullest.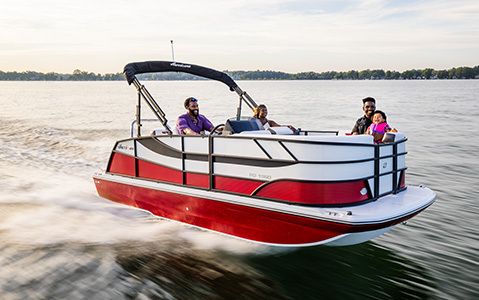 After Your Boat Purchase

Congratulations! You've made it to the end of your process of buying a boat and are now a proud owner! However, your journey has just begun. Owning a boat can be tricky, and you must make sure that you're in compliance with local regulations and ensure that you're operating your boat safely and correctly.
Register Your Boat


Just like you wouldn't drive a car without a license plate and up-to-date registration, your boat must be properly registered and marked with its assigned number and current use sticker for the state you're operating in. Additionally, you must be carrying your boat's registration on board. Regulations about the specifics of what stickers should look like and how long registrations last vary from state to state, so be sure to check local state laws before you get out on the water.
Purchase Boat Insurance


The regulations surrounding boat insurance vary depending on what state you're in, as well as what kind of purchasing plan you have and where the boat will reside – some banks and marinas require you to have proof of boat insurance. Common coverage plans can include property damage liability, collision damage, bodily injury liability, and fuel spill liability. Purchasing insurance with these kinds of coverage can give you peace of mind while out on the water, but to ensure you have the safest time for you and your crew, you should take boater safety courses and make sure you carry the required safety gear.
Ensure Your Boating License is Up to Date


Much like boat registrations, boating license rules are determined by local authorities. The education that many regions require is invaluable and can prevent accidents and save lives.
Connect & Ask Questions on a Boating Forum


For first-time boat owners, there can be a lot of lingering questions even after you've done all the work to get yourself ready to get out on the water. The good news is that there are plenty of people who've been where you are and are eager to answer your questions and help you feel comfortable on your new boat. One place to find them is a forum for boat owners.
More Boating Resources


For more help with your new boat, check out these additional resources: