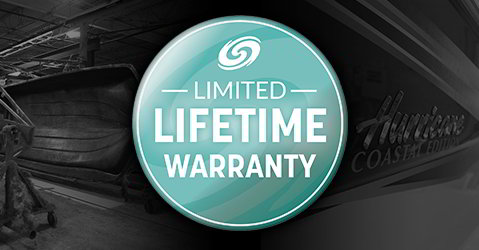 From laying glass to the final fit and finish, the people at Hurricane take pride in the entire manufacturing process. Our boats are the finest in safety, style, comfort, and durability. Comprehensive Hurricane warranties give our customers the confidence that they have chosen the best deck boats on the market.
LIMITED LIFETIME: HULL & TRANSOM High-quality materials and premier manufacturing techniques are used to create a hull & transom that deserve a limited lifetime warranty.
5 YEAR: VINYL All Hurricane upholstery is crafted by skilled workers using advanced automated equipment. This ensures all pieces are cut and assembled to our high standards. Heavy-duty expanded vinyl is also used for quality fit and finish, and comes with a 5-year warranty.
5 YEAR: FLOORING Hurricane Boats warrants the carpeting, the canopy fabric, and furniture upholstery materials for a period of five years. This warranty extends to the first retail purchaser only and begins on date of delivery to first retail purchaser.
1 YEAR: COMPONENTS Hurricane Boats warrants all components (stereo, guages, etc.) for up to one full year from date of purchase.
NMMA CERTIFIED
In addition to our exceptional warranties, all our deck boats are NMMA Certified. This gives you the assurance that it meets, and often exceeds, the industry's strictest quality and safety standards. According to the U.S. Coast Guard, certified boats are statistically safer that non-certified boats.
View Full Hurricane Boats Limited Warranty Here
View Full Hurricane Boats Commercial Warranty Here